Kids Zone
At Dr. Croppo and associates dental office, we love seeing even the youngest patients. We recommend that you bring your child in for their first visit shortly after their first teeth erupt, at around a year to a year and a half. We make sure these early visits are lots of fun for your children, so we can help develop positive attitude towards dental visits. Feel free to drop by and just spend some time in our Kid Zone and meet our friendly staff at any time.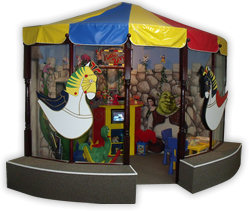 Making brushing fun for kids!
Start by brushing your own teeth along with your child: stand side by side in front of the mirror so your child can mimic your brushing technique
Give your child a cute toothbrush decorated with their favorite characters like Iron man, Spiderman, Thomas the tank, Little Mermaid and buy a toothpaste designed especially for kids
Baby Bottle Syndrome
Tooth decay in infants and very young children is often referred to as baby bottle tooth decay. Baby Bottle tooth decay occurs when sweetened liquids or those with natural sugars (like milk, formula and fruit juice) cling to an infant's teeth for long periods of time. Bacteria in the mouth thrive on this sugar and produce acids that attack the teeth.
The good news is there are ways to avoid this from happening to your child.
Wipe the baby's gums with a washcloth or a clean gauze after every feeding
Begin brushing your child's teeth, without toothpaste, when his or her first tooth comes in
Clean and massage gums in areas without teeth
Floss baby's teeth once all have come in
Make sure your child is getting enough Fluoride, which helps reduce cavities. If your local water supply does not contain fluoride, ask your dentist or health care provider how your child should get it. Make sure your child is getting enough Fluoride, which helps reduce cavities. If your local water supply does not contain fluoride, ask your dentist or doctor how your child should get it
Schedule regular dental visits by your child's first birthday
Kids Love the Dolphin Operatory